Gratitude in BALI
I don't have to do anything. I don't have to do anything!
I DON'T HAVE TO DO ANY THING.
Which means that I can do it all.
I am writing this from Bali. Flew across the globe to Indonesia to breathe air imbued with gratitude. To not "vacate" my life back home, but to spend time filling my cache with a spiritual and mental arsenal to carry back home…
********
The above was written a week ago, on my first trip to Bali. I trailed off from journaling when my beautifully organic, ridiculously delicious lunch arrived (in a perfectly comfortable-yet-chic café called Soul Bytes which I'll talk more about later). After closing out a couple of small, but hot graphic design client emails, I settled into just being.
Below is just a quick snippet of a few pics, thematically aligned to my reflections of gratitude.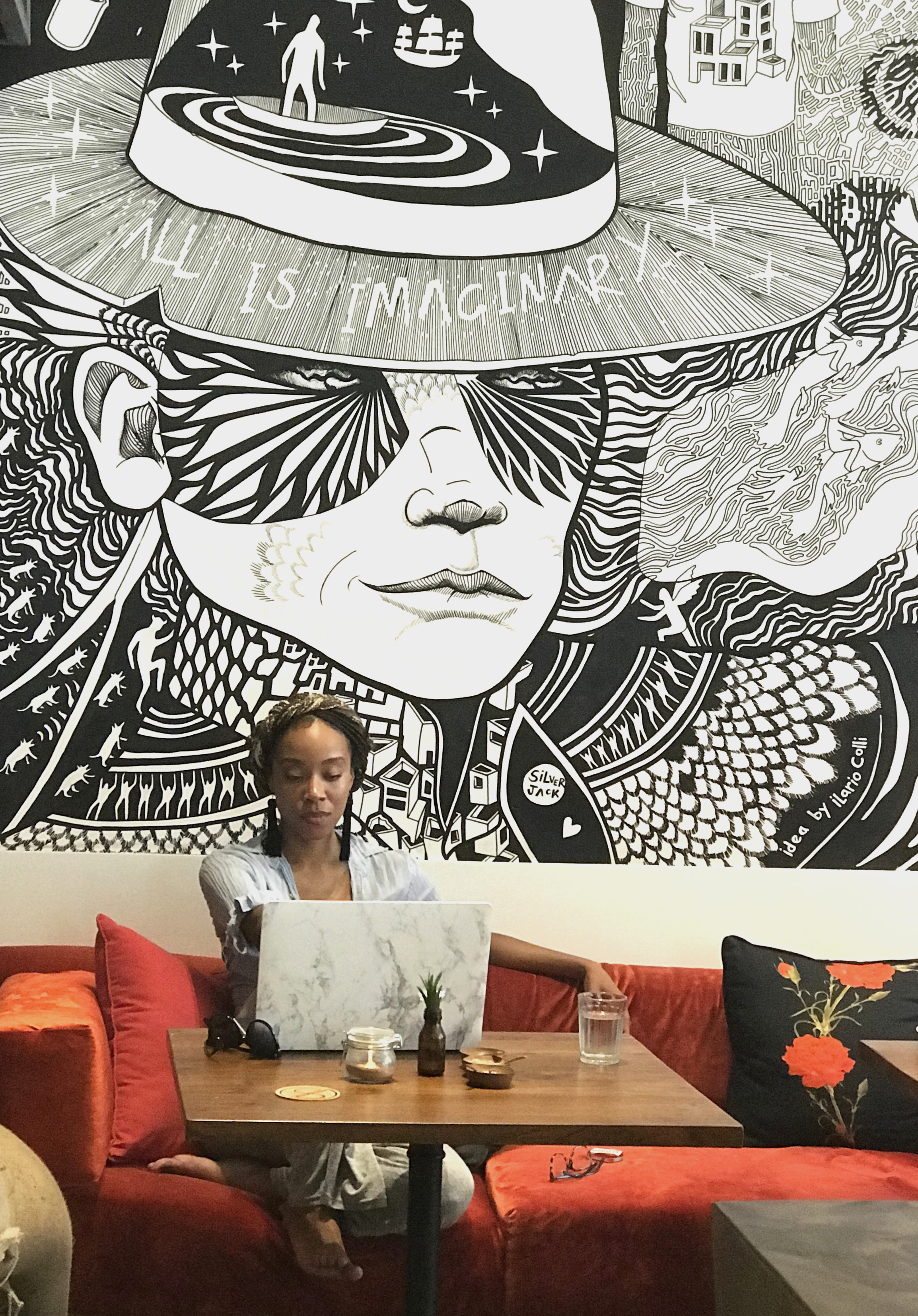 Me, to Me, about working in Bali someday
If all is imaginary then perception is reality, yes? This pic is me staving off the jet lag on my first afternoon there by working in a sunny, creativity inducing spot. I was thankful to have found such a perfect spot close to our hotel that my friends and I could casually convene at. Soul Bytes café became our second home as the trip went on (more about this in a post to come).
FACT: A year ago after seeing a news article about creatives and expats working from the paradise office that is Bali, I told myself I would do that one day. Last week, I fulfilled that promised to myself.
Daily offerings of thanks —casual beautiful reverenece everywhere
Made for the gods from what God made: women spend time every day 2-3x each day, preparing these little baskets of food & flora. Canang Sari. A gift of thanks to the heavens, smoke from the incense carries it up & once burned out, it becomes food for monkeys/given back to the earth/ tossed away. This is a daily ritual of giving back what has been received by the Gods. An appeasement offering *not* based on fear, but on gratitude for the richness of life.
Welp, I can't exactly get this experience in Chicago
On day 2 we went to the humane, eco-friendly, award-winning Elephant Safari Park and Lodge in Taro. It's a massive (2 hectares) landscape of elephant habitat, gardens, museum, temple and more. You can interact and learn about (which is the road to respect, really) these animals. I admit riding the elephants were my friends' idea, but I have NO regrets.
It's no surprise that I love street art. Many moons ago I had fantasies of living in NY during the golden age of hip-hop and being the prissiest b-girl that ever lived. That didn't quite happen, but I did marry a muralist, and I'm his biggest fan. Typically when we travel together we go on hunts for the most local and accessible art: graffiti and murals. Here in Seminyak, I wasn't even looking, but came upon some colorful dopeness on my first walkabout on Day 1. You could say that it found me! It's so rewarding to spot cultural and region-specific tones inherent in works that share that common hip-hop cultural art thread. <3
This is us getting our not-so-natural girl group album cover poses on at Bali Swing in Ubud. What WAS natural was the natural high and united gratefulness we had in these moments.
Follow me even just a little bit in these inter-streets and you'll quickly learn that I love heights and crave that rush. Now Bali Swing was a different kind of rush—it was pure play and easy fun. We were encouraged to be kids again— just you know, a few hundred feet or so up in the air ;)
Everyone was so nice in Bali. Not only in an amazing "hospitality-is-a-major-industry-here" way, but in a "higher-vibration-life-values" kind of way. Both other travelers and locals alike were warm and friendly (more about the faces and energies of Bali later). This pic is me closing out my last day with a gratitude mark to take home with me. "Matur Suksma in Bahasa Bali, the language of Bali, is a way of saying 'thank you'. But it's more than just a simple 'thank you'. It means 'to say with intention'. It's a offering of gratitude" How apropos for a tattoo ;)
THANK YOU
(with intention)
Gratitude, always. Suksma
Focusing on something begets more of it, right?
DEFINITELY can get used to this. (Maybe occasional travel blogger can be added to my resumé?)