Serendipity. Do you see it?
serendipity noun
the occurrence and development of events by chance in a happy or beneficial way.
How fortunate we are to have each other
Here I am, 2:00 a.m. 2 days after Halloween. Two days after my favorite holiday, but also two days after another terrorist attack in NY. My original plan for this post was just to show some more beautiful pics from Bali, you know the type— terrain and vistas and temples and the like. But that content feels disconnected now, absent of any relevance to the current mood.
If you've been following my blog you've gleaned by now that it's very much an organic tome, new posts sprouting up in line with my spirit, and my spirit feels the need to just say: there's more beauty in the world than ugliness. I personally have to remind myself of that to balance out the news cycle. Particularly the actual beauty of people. Not physical, per se, but energy-wise. Fact: the simple joy of tuning into another's frequency and finding that they crave peace and warmth and laughter just as much as you do is beautiful.
I've had many instances of this. My youngest brother is autistic, and while my protective and private nature curbs me from sharing much about his life to the rest of the world, I will share that I've seen the beauty of said world reflected in the kind way others have treated him over the years, and that kindness manifests in many ways.
So where am I going with this?
Since I'm *trying* to be disciplined in my posting, I will share more Bali pics, but this one focuses on a few people. Folks whose paths aligned with mine in a beautiful serendipitous way.
Let's start off with the run-in that embodies this post: 3 friends from Chicago travel thousands of miles across the globe to a place they've never been before and run into two other Chicago girls in the same exact place. My Black American experience in Bali was a hodgepodge of:
comfort with friendly locals, who mostly complemented our braids (all while refraining from reaching out and touching without permission) and graciously answered any questions we had about the island.

curious yet warm conversations from the occasional seasoned Brit or Aussie traveler, eager share their itinerary and travel secrets.

our repeated revelation of "There are no Americans here?" "Hey! There are NO American's here! ;)"
So when Teara and Ashleigh spotted us at the rice terraces in Ubud, we all pointed to each other and just knew. Recapping who, where and what else from Chicago we had in common, it was all squeals, recaps of airport stories and giggles. It was magic. You know the type of magic ;).
In general, Balinese people name their children according to birth order: and the names are the same for both males and females. After a few days of talking to some locals, it clicked that it wasn't just curious that we kept running into "Putus" and "Wayans"—everyone literally has the same name(s)! The firstborn child: Wayan, Putu or Gede, the second is named Made or Kadek, the third child goes by Nyoman or Komang, and the fourth is named Ketut. There's tons of variations on the this, according to caste and professions. If you're fascinated, this blog is worth a peep.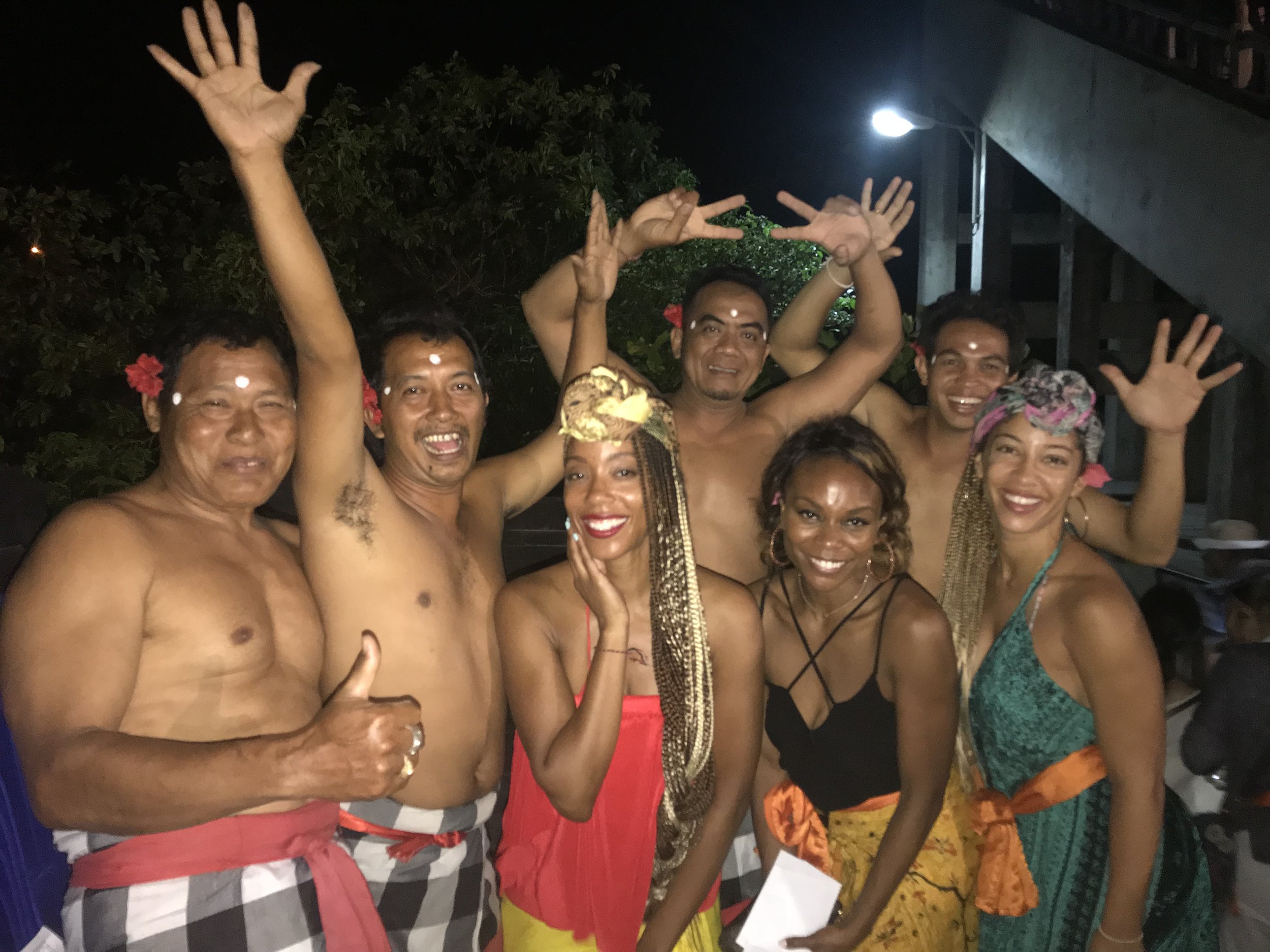 Uluwatu Temple. Google it! There's just so much to say— I will only say this: Loosely translated somewhere as "something divine at the end of the land". This seaside temple on the edge of a cliff has a daily traditional Kecak dance performance at sunset (and mischievous monkeys running about). We met up briefly with the dancers afterward for thank-yous and photo ops. Having squeezed this in on our second to last day all I know is that I would definitely do this again.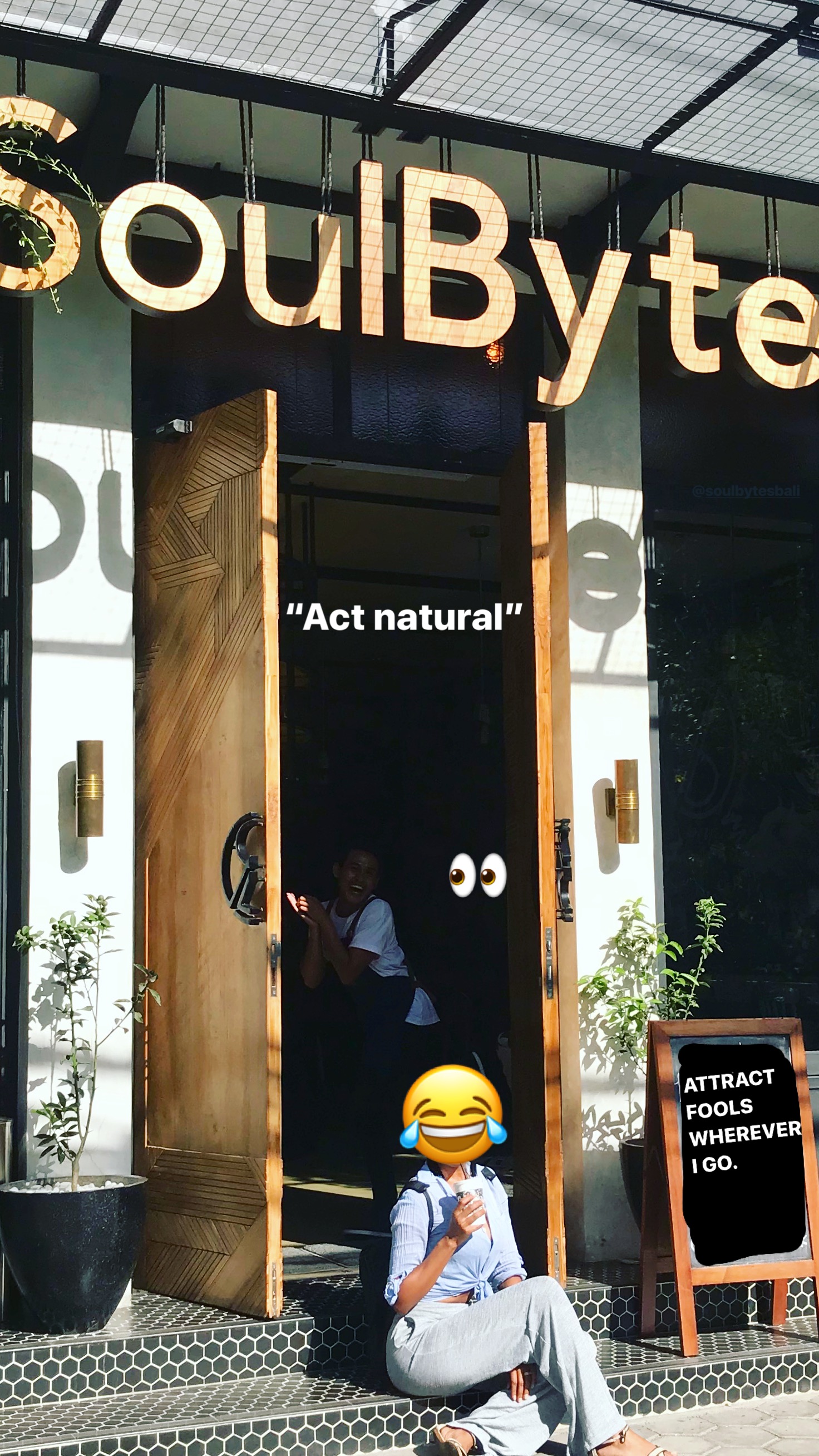 Spent the first day of this trip solo, walking around Seminyak taking in the sights and sounds of all the stores, shops, restaurants, and scooters(!) everywhere. After an hour or so your girl was starving so I walked into the first "comfortable" spot that caught my eye. SoulBytes café became our "home base". I consider myself an ambivert: someone who enjoys people but needs alone time to recharge and relax. This place was perfect and gave me the best customer service experience I've ever had in a café. (and I work from my laptop in café's 80% of the time now). The owner Ilario chopped it up with us multiple times, and Abdul became one of my favorite people ever, simply for roasting me and photobombing every other picture I tried to take. The intent of the company:
"We like to call it a 'café with a tummy and soul'. Innovative and human-oriented, at SoulBytes we go beyond the conventional café experience in our aim and intention. In a money-obsessed world, SoulBytes dares to be different. We put the human element first. Your happiness and well-being is our focus, not the relentless pursuit of profit margins. It's the kind of café where you can hang, chat with a friend and sip on a latte and, all the while, and maybe without evening knowing it, be inspired to be a better person, to live a richer, fuller life."
Says it all. Good folks, good times.
PS: Special shout-out and honorable mention to a host of other folks we met during this trip that were so cool: Bobbie and Binti from Canada for cursing us out in the most Canadian-affectionate way; Shannon for emailing me a detailed PDF itinerary that made my A-type neurotic heart melt; Aussie Newlyweds Megan and Sarah who were our temporary best friends and political common-sense-conversational-comrades while at Bali Swing. And more.
We really are so fortunate to have each other. <3.